Dry eyes can result from different factors, but a common culprit may be persistent allergies. Allergies and dry eyes can occur together, often with overlapping symptoms.
One of the most common symptoms of dry eyes is itchiness and irritation, which usually manifests as redness or even a burning sensation in the eyes. If you experience these symptoms, see your eye doctor for dry eye relief.
For healthy eyes and comfortable vision, finding the underlying cause of your dry eyes helps to create a personalized solution for your unique needs. Let's look at different types of allergies and dry eyes in detail.
Dry Eye
Dry eye is a common condition and can have several causes, including age, certain diseases, the side effect of medications, long-term contact lens wear, and prolonged screen time. Dry eyes occur:
When the eyes produce low-quality tears that evaporate quickly
When the eyes produce insufficient tears that cause irritation and discomfort
Symptoms of dry eyes can include:
A burning sensation
A gritty feeling in the eyes
Redness inside or around the eyes
Watery eyes
Eye fatigue
Blurry vision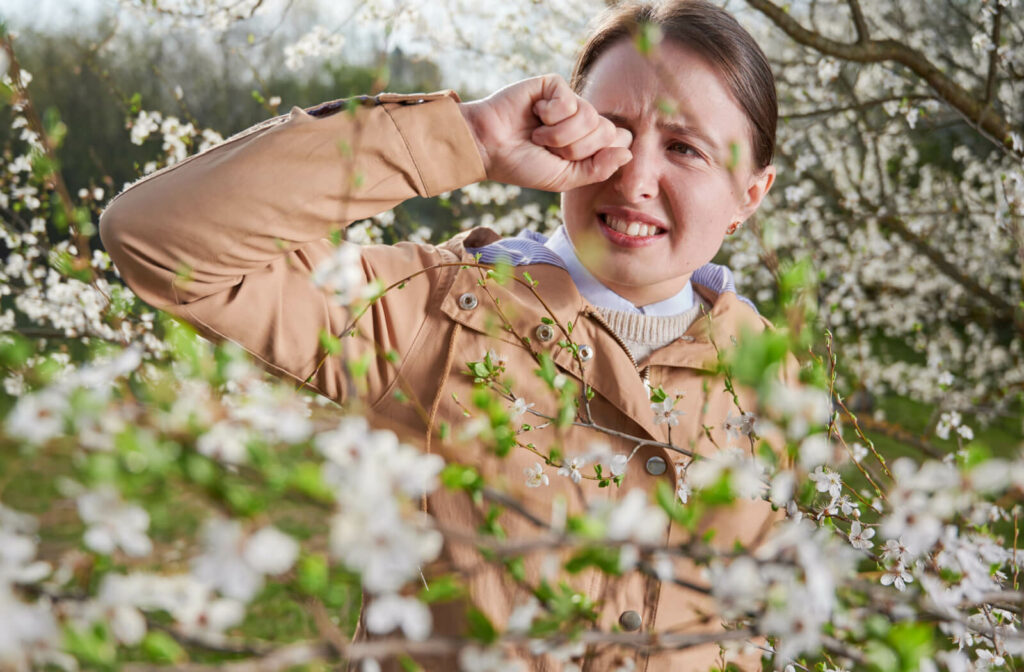 Allergies
Allergies are the body's immune response to harmful substances that can also contribute to dry eyes. These may include:
Outdoor allergens: Pollen from trees, grass, or weed
Indoor allergens: Animal dander, mold, and dust mites
Irritants: Smoke, exhaust fumes, and chemical scents such as detergent or perfume
Allergies can cause similar symptoms to dry eye:
Watery eyes
Red eyes
Burning
Sensitivity to light
Swollen or itchy eyes (specific to allergies)
How Allergies Cause Dry Eyes
Allergic conjunctivitis, or eye allergies, refer to inflammation from an allergic reaction in the eye. Allergic conjunctivitis can be seasonal (acute), such as during spring and early summer, or year-round (chronic).
Other types include an allergy to makeup, perfume, or other chemicals, called contact conjunctivitis. Giant papillary conjunctivitis is an allergy sometimes caused by contact lenses. This can create bumps inside your eyelid with redness, sensitivity, and swelling.
There are several ways in which allergies can cause dry eyes:
Blepharitis can affect the tear film's ability to lubricate the eye. When allergens come in direct contact with the eye, they can clog the oil glands resulting in an abnormal tear film and dry eyes.
Antihistamines relieve symptoms such as sneezing, runny nose, or itchy eyes by blocking the body's immune response to allergy triggers. However, they can also reduce tear production, causing dry eyes.
Treatment for Dry Eyes Caused by Allergies
There is no one solution to treat dry eyes. If dry eyes are due to allergies, your eye doctor can help determine the underlying cause before recommending a suitable treatment plan.
Some possible treatment options for eye allergies include:
Artificial Tears
Over-the-counter preservative-free artificial tears can help provide quick relief by washing away allergens and soothing irritated eyes.
Medicated Drops
Medicated ointments or eye drops may be used to reduce inflammation. Prescription medication can provide both short and long-term relief. Decongestant eye drops can help with eye redness by constricting the blood vessels.
Oral Antihistamines
Oral antihistamines can provide long-lasting relief, but they can also worsen dry eye symptoms. Speak to your eye doctor if you have allergies and dry eyes, as they may recommend an antihistamine that doesn't dry out your eyes.
Immunotherapy
Immunotherapy (allergy shots) is a method of exposing your body to increasing amounts of an allergen over time. This can decrease your sensitivity to allergens and may reduce symptoms of eye allergies even after treatment stops.
Wearing Glasses
Wearing sunglasses or eyeglasses outside can protect your eyes from pollen. This extra barrier can help prevent scratchiness and redness from occurring.
Specialty Contact Lenses
Wearing contacts for a long time and constantly changing them can affect the natural lubrication of your eyes with tears and worsen dry eye symptoms. You can give your eye a break by wearing eyeglasses or contact lenses designed for dry eyes.
Warm Compresses
Irritation, itching, and rubbing the eyes can worsen allergy and dry eye symptoms. A warm compress can help soothe your eyes, unclog oil glands, and relieve redness.
Preventing Eye Allergies & Dry Eyes
Regardless of the cause, without treatment and prevention, dry eyes can lead to significant discomfort and can affect your quality of life. But there are steps you can take to help prevent or avoid allergens and dry eye symptoms from worsening:
When pollen counts are high, stay indoors.
Keep windows closed and use an air conditioner.
An air purifier inside can reduce allergens.
A humidifier in your house can increase moisture and prevent tear evaporation.
Always wash your hands after contact with plants or animals, and avoid touching your eyes.
Dry Eye Therapy for Comfortable Vision
Having dry eyes can be both frustrating and uncomfortable. And when caused by allergies, the symptoms can be even more persistent.
If you are experiencing dry eyes due to allergies, book an appointment with Optical Illusions for proper treatment, relief, and comfortable vision.