Does Myopia Get Worse with Age?
Can Age Affect Myopia?
Myopia (nearsightedness) is one of the most common vision problems globally, and it's only growing. Some research suggests that 50% of the world's population will have myopia by 2050.
Early diagnosis of myopia and vision problems is the best method of preventing worsening conditions. Primarily, myopia management is aimed at children, and the error is diagnosed during pediatric eye exams.
But what about myopia as we age? How often does myopia get missed until adulthood? Does myopia get worse with age?
Your eyes grow and change with you, from development milestones in childhood to health conditions related to aging. Vision changes, including myopia, can occur at any age.
Whether it's a slight or significant prescription change, your eye care team can help you manage vision changes. It's also crucial to check your ocular health. For example, vision changes might be the slow progression of myopia or a separate visual problem.
Visiting your optometrist ensures you have all the facts about your eye care needs.
What Causes Myopia?
Refractive errors like myopia (nearsightedness) occur when the shape of your eye doesn't reflect light as it should.
Myopia is when your eyeball shape is too long, or the cornea is too steeply curved. The condition causes vision where your distance vision can appear blurred, but close objects are sharp.
Nearsightedness is usually diagnosed between ages 6–14 and often worsens with age. As you age, myopia progresses, causing worsening symptoms. The condition stabilizes or slows progression in the early 20s.
What causes myopia isn't clear, but there are risk factors and conditions. For example, you're more likely to develop myopia if one of your parents did.
There's also a link between spending enough time outdoors. Too much near-vision activity, such as reading, writing, drawing, or working on a computer, can increase your risk of developing myopia.
Taking a break from near-distance activities and engaging in activities that exercise your distance vision can decrease risk factors. Prevent worsening myopia by practicing the following:
Limiting screen time
Wearing sunglasses outside
Booking regular eye exams
Avoiding working or reading in dim light
Using protective eyewear (sports, hobbies, etc.)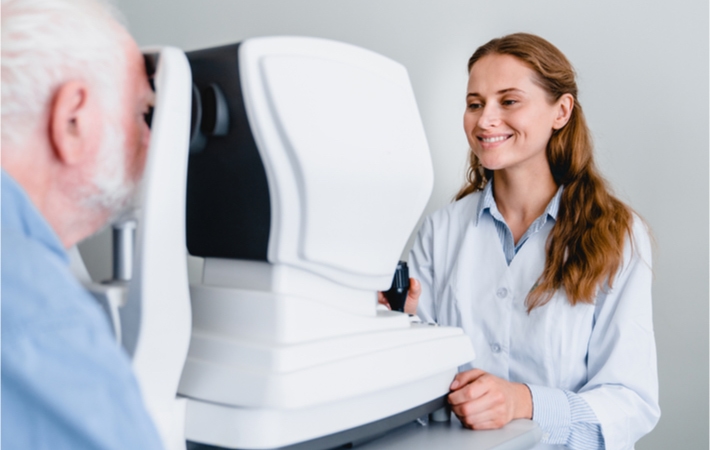 High vs. Low Myopia
Nearsightedness or myopia can be described in terms of low or high. People with low myopia have minor vision impairment and may not use corrective lenses or other management options.
On the other hand, high myopia can include severe vision loss and increased risk factors for sight-threatening conditions, including glaucoma, retinal detachment, cataracts, and degenerative myopia.
Degenerative Myopia
Degenerative myopia has many names, including pathological myopia, progressive myopia, myopic macular degeneration, or myopic maculopathy.
Progressive myopia can happen at any age but tends to present in adults in their late 30s and 40s.
Progressive or degenerative myopia can begin from infancy and can progress rapidly. Patients with the condition are at a higher risk of vision loss, light sensitivity, headaches, floaters, and cataracts.
As degenerative myopia progresses, it can also increase your risk of other eye conditions. The unusual eye shape is commonly larger than normal, stretching some tissues too thin. As a result, the thinning layers at the back of your eye and retina deteriorate, causing the development of age-related macular degeneration (AMD) or retinal disorders.
Myopic degeneration shares similarities with age-related macular degeneration, leading to significant central vision loss (straight-ahead vision).
Manage Myopia at Any Age
Myopia can't be reversed, but you can slow progression. Most methods focus on preventing and diagnosing symptoms early, as myopia control is most effective in children. For example, therapy for children's vision might use low-dose atropine drops or orthokeratology (ortho-k).
Managing myopia as we age can vary depending on several factors. Your comfort level, eye health, and lifestyle all play roles in deciding how you manage myopia. Your choices might be affected by whether you have low or high myopia, love or hate contact lenses, or are a good candidate for laser eye surgery.
Other common treatment and management options include eyeglasses, intraocular lens implants, phakic lenses, or therapy for children's vision.
Talking to your optometrist and booking regular eye exams can widen your options. The more your eye care team knows about you and your eye health, the better we can treat your symptoms and protect your vision.
Together We Can Manage Myopia
At Optical Illusions, we care about your vision and quality of life. If myopia affects your life, talk to us about your vision goals. Together we can improve your comfort and find solutions for your vision. Book an appointment to develop a plan for your vision.