Your Contact Lens Fitting
Unique eyes deserve a unique fit. When your contact lenses are properly fitted, they can help you achieve clear, comfortable vision. But how do you get fitted for your contact lenses?
Every eyewear journey, whether for eyeglasses or specialty contact lenses, begins with an exam. First-time wearers and returning patients require a contact lens exam to produce a customized fit for their unique eyes.
Why Contact Lens Fit Matters
A contact lens fitting is essential for effective contact lens wear. Of course, the right fit is more than helping the contact stay in place—but that's certainly part of it. A contact lens fitting also benefits your eye health and vision quality.
Contact lenses are considered medical devices—even cosmetic lenses worn to change eye color. Contact lenses follow guidelines to protect patients' vision and eye health. When an optometrist determines if contact lenses are right for you, they provide individual care and instructions to ensure your lenses are used safely and comfortably.
Why Contact Lens Exams Matter
A contact lens exam is an essential step for your contact lens fitting. Although assessing your prescription is part of the exam, diagnosing eye health is a crucial aspect of the process.
After the exam, your optometrist also matches you with the appropriate contact lens care kit. They can also teach you how to care for your lenses, helping to keep your lenses working effectively.
Your contact lens prescription is unique. You may have a similar visual acuity to a friend or family member, but your contacts are made just for you. Wearing someone else's prescription lenses may still improve your vision. Yet, they may not work as effectively or fit as comfortably.
Notably, even your eyeglasses prescription is different from your contact lens prescription. Eyeglass lenses are positioned about 12 millimeters away from your eyes. However, your contacts sit directly on your eye (over your cornea). The difference in distance, although small, is significant enough to change how light enters your eye.
Contact lens prescriptions expire annually, typically a year after your contact lens exam. The expiry helps ensure your prescription and eye care needs are up-to-date. A routine evaluation of eye health is also crucial in preventing the risks associated with long-term contact lens wear.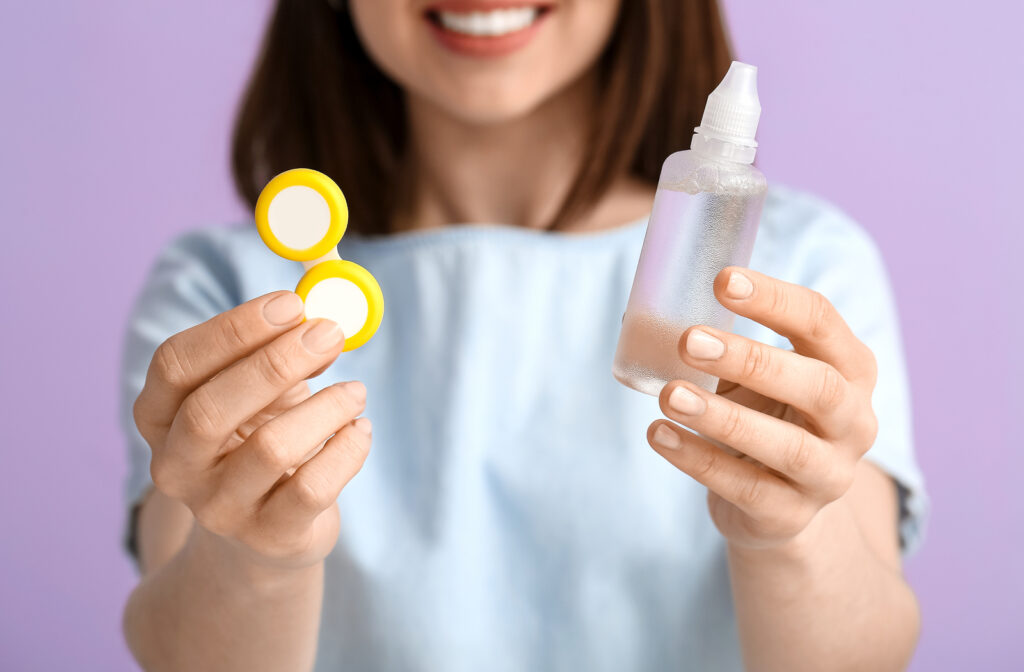 The Process: Exam & Fitting
An initial visit for a contact lens fighting and examination usually takes an hour or more. Our optometrists will also help first-time wearers learn how to insert and remove their lenses safely. Later visits, or prescription updates, can be shorter as your optometrist will have a history of your personalized eye health and vision needs.
A contact lens exam and fitting determines your eye health, prescription, eye measurements, and comfort.
Eye Health Assessment
An optometrist assesses your eye health to see if you're a good candidate for contact lenses. For example, lifestyle can be one consideration, as contact lens care is essential for maintaining healthy vision. Some eye conditions can also make contact lens wear more challenging, such as:
Patients with higher prescriptions or unique eye shapes can be candidates for contact lenses. However, it can take time to find a comfortable fit. Additionally, in some cases, the visual clarity may not be equal to their experience with eyeglasses.
Prescription Evaluation
Evaluating your prescription is crucial, whether you're updating your prescription or receiving contact lenses for the first time. An accurate prescription improves visual acuity and informs your lens comfort.
Eye Measurements
Eye measurements help your lens fit your unique eye shape, improving comfort and how well the lens stays on the eye's surface. Using the unique measurements for your eyes also ensures your prescription accurately corrects your vision. Your optometrist may use multiple diagnostic tools to evaluate eye measurements, including a corneal topographer and a slit lamp.
Some crucial eye measurements include:
Cornea shape
Eye curvature
Pupil & iris size
Trying Your Lenses
Like wearing a new pair of shoes for the first time, new contact lenses have a breaking-in period. If you're renewing or updating your contact lens prescription, you'll likely adapt to the new lenses more quickly. However, if there are significant changes since your previous prescription lenses, it can still require some adjustment.
After determining your prescription and eye measurements, your optometrist will provide a trial pair. Then, patients can practice wearing the new lenses. First-time wearers may use the trial pair to determine if the fit, material, and type are the best for their vision and comfort.
For example, soft contact lenses are typically easier to adjust to initially, but rigid gas permeable (RGP) generally provide sharper vision. Therefore, a patient trying soft contacts may switch to RGP if they prefer sharper vision. Alternatively, a patient may begin with extended-wear but change to a daily disposable option.
Patients with astigmatism or irregular corneas may require specialty contact lenses. For example, toric lenses are designed to rotate into the correct position on the eye's surface. Patients with specialty contacts go through the same fitting process.
Follow-up Exam
After an adaption period, optometrists use a follow-up exam to evaluate the patient's experience with the contact lens fit. The follow-up is not a comprehensive eye exam, but your optometrist will assess eye health to determine how you're adjusting to contact lens wear. Then, your optometrist can work with you to make any changes to improve contact lens fit.
Discover Your Fit
When it's time to update your prescription, contact our team at Optical Illusions! If you're considering contact lenses for the first time, we can answer your contact lens questions. Our optometrists can determine if you're a good candidate and help you through the fitting process.
We're dedicated to helping our patients achieve comfortable vision. Book an appointment today for a contact lens exam and fitting.