Eye lifts are a popular cosmetic procedure, but going under the knife for beauty can be intimidating. We now offer a less-invasive way to achieve an eye lift—with eye drops!
Upneeq is a simple daily eye drop that's FDA-approved to help correct drooping eyelids caused by acquired ptosis under the supervision of your eye care team—without cosmetic surgery.
During your comprehensive eye exam, the team at Optical Illusions will take your medical information, assess your eyes, and uncover the cause of your droopy eyes before prescribing Upneeq eye drops.
Why Are Eyelids Droopy?
Droopy eyelids are an eye condition called blepharoptosis or ptosis, and while many people link droopy eyelids with age, several causes can contribute to its appearance.
Ptosis can impact your appearance, causing you to look tired, stressed, or add age to your face, but it can also interfere with your vision. If eyelids are severely drooping, they can block a portion of the eye, making your eyes appear smaller and limiting your field of vision. Drooping eyelids can disrupt daily tasks like driving, reading, working, and practicing sports or hobbies.
Some causes of droopy eyelids include:
Age
Genetics
Underlying medical conditions
After effects of eye surgeries such as LASIK or cataract procedures
Nerve damage
Botox migration to the eyelid muscles
In some cases, droopy eyelids can be a symptom of neurological conditions, stroke, brain tumor, or muscle cancers. If you're concerned about your droopy eyes and want to uncover the root cause and discuss treatment options, your optometrist can perform a comprehensive eye exam to help detect ocular problems.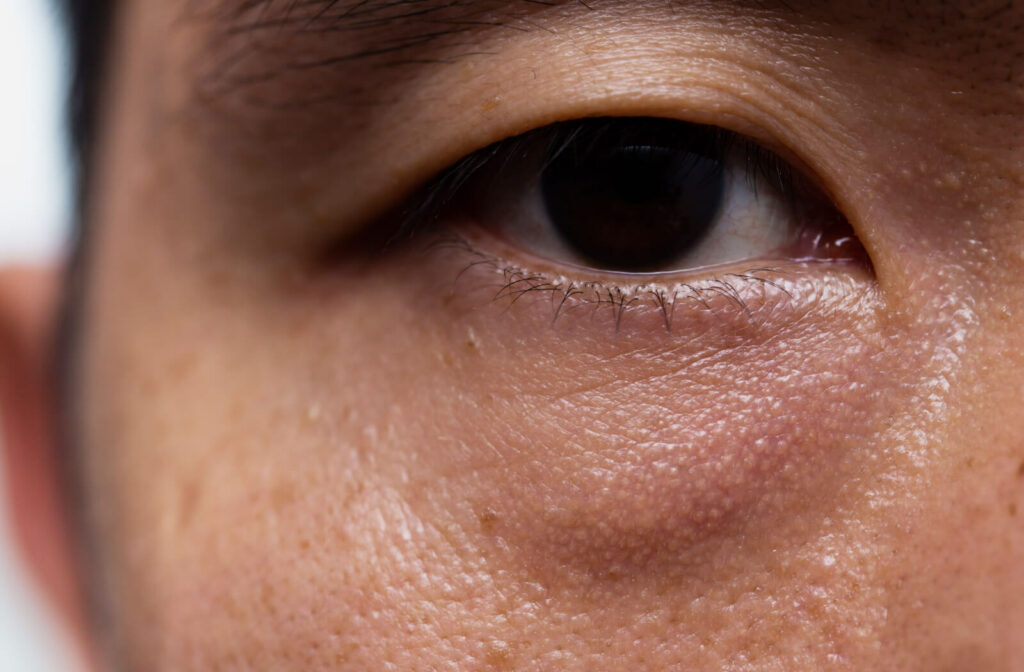 Symptoms of Droopy Eyelids
Some people notice droopy eyelids easily in the mirror, but some symptoms are associated with ptosis, including the following:
Blocked eyesight
Tilting the head back to improve vision
Arching eyebrows to lift the eyelids
Head and neck pain from muscular accommodation
In children, droopy eyelids can also indicate that they're developing amblyopia, or lazy eye.
What Is Upneeq?
Upneeq is an eyelift eye drop that can help improve a sleepy, stressed, and tired appearance in your eyes due to acquired ptosis. Instead of choosing surgery to uplift your eyelids, Upneeq is a noninvasive treatment option to discuss with your eye care team.
Ptosis can be congenital or acquired—congenital ptosis is present at birth, while acquired ptosis develops over time. Congenital ptosis can't be treated with Upneeq, but most acquired ptosis can.
How Does Upneeq Work?
Upneeq helps lift the eyelid by stimulating contraction in the levator palpebrae muscle, a triangle-shaped muscle in the upper eyelid responsible for retraction and elevation of the eyelid. Oxymetazoline is an adrenoceptor agonist and is the active ingredient that causes muscle contraction.
The 0.1% solution comes in a single-use vial which can be used in one or both eyes. Whether you want a more youthful appearance or droopy eyelids are affecting your vision, Upneeq only needs one drop per day to offer results.
Upneeq Results
Many patients see noticeable results in as little as 2 hours after using Upneeq drops, and with regular use, you can experience an improvement in obstructed vision. While your bright, opened eyes will be temporary, an average eyelid lift of 1 millimeter can provide a clear transformation to your eyes, restoring a youthful and rested appearance.
Leave Droopy Eyes Behind
You may not need surgical intervention to improve the look of your eyes. FDA-approved Upneeq is a safe, clinically proven method to enhance the look of your eyes without invasive treatment. Your optometrist can thoroughly assess your eyes, consider your medical history, and decide if Upneeq will benefit your one-of-a-kind eyes.
At Optical Illusions, our optometrists embrace modern research and technology to not only keep your eyes healthy and vision clear but help you feel confident with the look of your eyes. Whether you're looking for the perfect pair of frames or want to explore the eye lift in a bottle, our optometrists and opticians can offer their knowledge and support.
Schedule an appointment at one of our California or Alaska locations and let our dedicated team help support your healthy vision.