Dry eye is a common eye condition that occurs when the eyes don't produce enough tears or when the tears evaporate too quickly. This can cause discomfort, redness, and even vision problems.
While many factors, like wind and dry air, and conditions, like health problems and medication, can contribute to dry eye, research shows that stress may also play a role in or increase your risk of dry eye disease.
Let's explore the connection between stress and dry eye and how to manage both. We recommend beginning with an eye exam to assess your ocular health.
What Is Dry Eye?
Dry eye occurs when the eyes produce insufficient or poor-quality tears, or your tears evaporate too quickly. Tears are essential for maintaining eye health. Good-quality tear film helps to lubricate the eyes, protect them from infection, and remove debris.
Without enough tears or an imbalanced tear film lacking in water, oil, or mucin, you can experience the following dry eye symptoms:
A scratchy feeling in your eye
Stinging or burning in your eye
Redness
Sensitivity to light
Blurry vision
There are several causes of dry eye, including:
Age: Dry eye is more common in older adults, as tear production tends to decrease with age.
Biological sex: Females are more likely than males to experience dry eye due to hormonal changes that can affect tear production.
Environmental factors: Wind, smoke, and dry air can all contribute to dry eye.
Medications: Dry eye is a side effect of certain medicines.
Medical conditions: Conditions such as diabetes, thyroid, and autoimmune disorders can increase the risk of dry eye.
Screen time: Long periods in front of screens can lead to infrequent blinking and dry eyes.
Stress & Dry Eye
Stress is a natural response to a perceived threat or challenge. It can affect the mind and physical body, including your eyes. An activity such as spending long hours in front of screens can cause stress with vision symptoms such as digital eye strain leading to dry eye.
When we encounter a stressful situation, our bodies release the hormones cortisol and adrenaline to prepare our bodies to either face the threat head-on or flee from it—the flight or fight reaction. While this response or some stress can be helpful in certain situations, prolonged stress can negatively impact our health.
Studies show that the severity of dry eyes is associated with conditions such as stress, depression, and anxiety. One study shows that stress is a risk factor for dry eye disease. Stress can also cause a feedback loop, exacerbating dry eye, causing emotional distress, and worsening dry eye symptoms.
Treating Dry Eye & Managing Stress
If stress is a contributing factor to your dry eyes, there are several things you can do to find relief for your dry eye symptoms and manage your stress.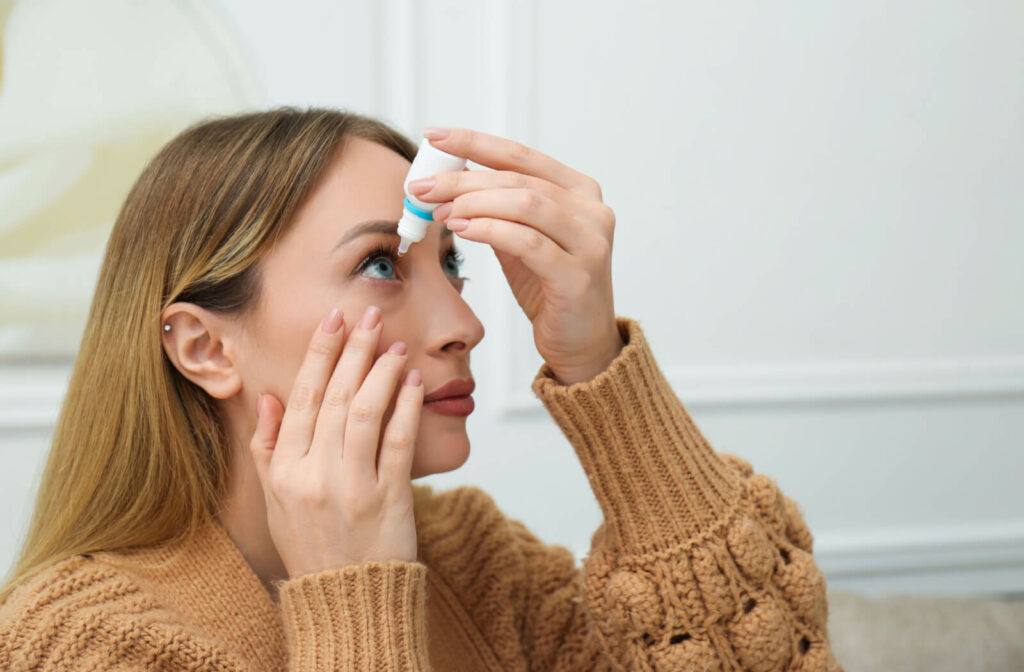 Treatment for Dry Eye
Treatment for dry eye is an individualized approach. Your eye doctor can recommend the following based on your needs:
Artificial tears provide adequate moisture and lubrication in the eyes.
Medicated eye drops or prescription medication to help stimulate tear production.
Optase hyaluronic acid-based eye drop products retain water and your tears for more comfort.
Punctal plugs close the duct openings and reduce tear drainage.
Heating masks and lid wipes unblock blockages in the oil glands.
Zocular eyelid system is a cleaning treatment to help improve oil flow.
Omega-3 supplements help improve oil flow and reduce eye inflammation.
Marco Equinox Low Level Light Therapy (LLLT) applies heat to the eyelids to treat dry eyes.
TearCare system that uses heat and expression in obstructive meibomian gland disease (MGD).
Managing Stress
Not everyone responds to stress the same way. However, there are practical ways to reduce or cope with stress. Stress reduction can include the following:
Establishing a daily routine. Keeping a routine for meals, chores, exercise, recreation, and meeting family and friends can make you feel more in control of your time.
Getting quality sleep. Ensuring you get enough sleep is essential for overall health as it repairs, rejuvenates, and relaxes your mind and body. Establish a regular sleep routine and avoid electronic devices and screens before bed.
Connecting with others. Staying in touch with family and friends can lift your mood and reduce stress.
Eating healthy and exercising regularly. A balanced diet and exercise can positively affect your health and reduce stress.
Practicing stress-reducing activities. Stress reduction techniques like deep breathing, meditation, and yoga can help to reduce cortisol levels and promote relaxation.
A Solution to Dry Eyes
Without sometimes realizing it, stress can contribute to or increase your risk of developing dry eye. If you experience dry eye symptoms or notice they worsen when stressed, book an appointment with Optical Illusions for treatment and therapy to find relief.