Have you ever felt like something was in your eye, but no matter how hard you looked, you just couldn't see anything? This is called foreign body sensation (FBS), which can be an irritating and even painful feeling.
If you have FBS and feel like something might be in your eye, this could be one of the most common symptoms of dry eye syndrome.
Dry eye syndrome is a vision condition that can wreak havoc on your comfort, but your optometrist can help you find relief through a comprehensive eye exam and dry eye evaluation.
While not the only cause of feeling FBS, dry eyes have become more common, thanks partly to the digital world we live in today.
Let's take a closer look at how dry eye syndrome affects your eyes, including other conditions that can make it feel like something is in your eye.
Foreign Body Sensation and Dry Eye Syndrome
There are many causes of FBS. The feeling that something is in your eye can be an annoying sensation, especially if any pain or discomfort accompanies it. Dry eye syndrome can be a prime suspect when you begin feeling that foreign sensation in your eye.
Dry eye syndrome occurs when your eyes don't produce enough water to stay lubricated or something has gone wrong with the production process of oil gland, causing an unstable tear film. Your tear film plays an integral role in maintaining the health, clarity, and comfort of your eyes. With dry eye syndrome, your tear film is compromised, leaving dry areas on the surface of your eyes. With every blink, your eyelid brushes over your sensitive eye, causing pain, irritation, and stinging or burning.
Dry eye syndrome is a complex condition with many different causes. So the first step to solving your problem is visiting your eye doctor for a comprehensive eye exam to determine the underlying cause of your dry eyes, which can include:
Inflammation
Allergies
Medication usage
Auto-immune Condition
When your eye care professional gets to the bottom of what's causing your dry eyes, the next step is implementing your personalized solution to help you find relief.
What Does Dry Eye Feel Like?
Feeling like there is something in your eye is one of many symptoms of dry eye syndrome. Common symptoms of dry eye syndrome also include:
Dryness
Irritation
Burning or stinging
Redness
Itching
Sensitivity to light
Blurred vision
Eye fatigue
Solutions for Dry Eyes
Artificial Tears & Medicated Eye Drops
Artificial tears are a type of eye drop that return the moisture and lubrication your eyes desperately need when dealing with dry eyes. Many are Hyaluronic Acid-based and provide immediate comfort.
Medicated eye drops are prescription drops and are specifically used to stimulate tear production and reduce inflammation.
Punctal Plugs
Punctal plugs are small medical devices inserted into your tear ducts to slow how quickly your tears drain from your eyes. These devices come in different sizes, so your eye doctor will measure the opening of your tear duct to ensure a comfortable fit.
Heating Masks & Lid Wipes
Heating masks and lid wipes help treat meibomian gland dysfunction which is responsible for up to 85% of dry eye symptoms. This condition can lead to a blockage in the meibomian glands of your eyelids, which are responsible for producing the oils in your tear film that prevent your tears from evaporating too quickly.
Heating masks and lid wipes target these blockages and promote a healthy flow of oils to your tear film.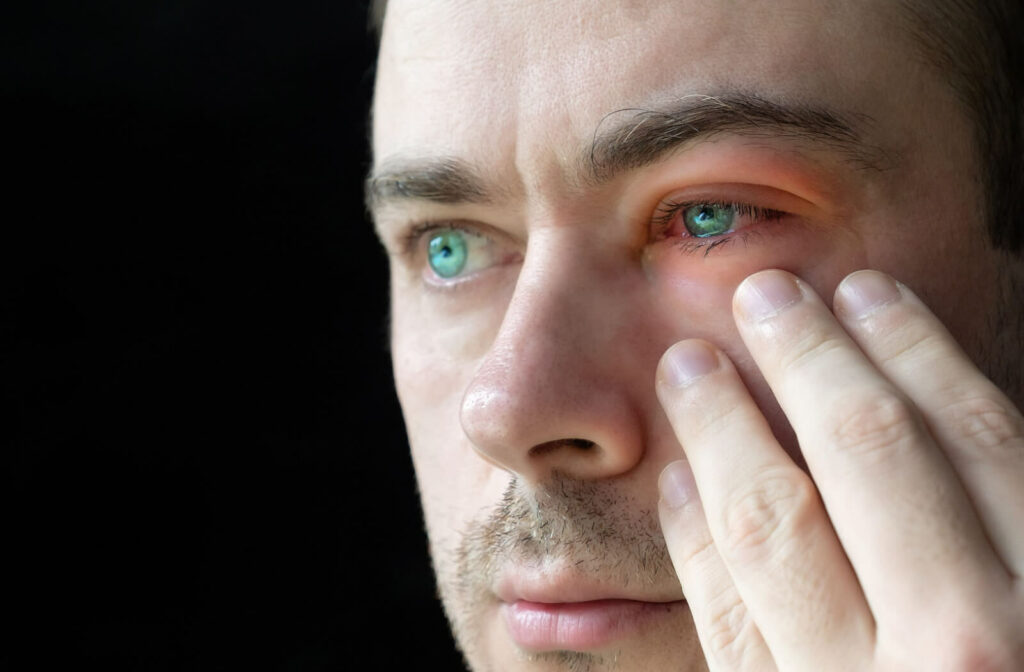 Other Conditions that Can Contribute to Discomfort
While dry eyes are a common cause of feeling like something is in your eye, it's not the only condition that displays this symptom. Let's take a look at some other conditions that can contribute to your discomfort.
Blepharitis
Blepharitis is an inflammation of your eyelid. This condition usually affects the lash line of your eyelids and is caused by clogged oil glands.
Along with FBS, other signs and symptoms of blepharitis can include:
Redness
Tearing
Itching
Burning or stinging
Regularly cleaning your eyelids and lash line and applying a warm compress can clear up the clogged gland and help you find relief.
Conjunctivitis
Conjunctivitis, also known as pink eye, occurs when there's an inflammation or infection of the transparent membrane that lines the inner eyelids and covers the white of your eyes.
This condition is very common, and the inflammation can make it seem like there's something in your eye. Other signs and symptoms of conjunctivitis can include:
Burning or stinging
Excessive tearing
Discharge
Redness
Light Sensitivity
A cool compress or damp, cool towel can help you find relief. Conjunctivitis can be quite contagious and sometimes requires antibiotics, so it's best to visit your eye doctor if you suspect you have pink eye.
Corneal Injuries
Corneal injuries refer to any injury or abrasion that affects your cornea. An injury to your cornea can cause a lingering sensation of something foreign in your eye. Other symptoms can include:
Blurred vision or loss of vision
Headaches
Redness
Light Sensitivity
A minor corneal injury can heal on its own, and you can apply a cold compress throughout the day to relieve any pain or irritation. A more severe corneal injury requires proper treatment with your eye doctor.
Your Comfort Is Key
The feeling of something foreign in your eye can cause discomfort, annoyance, or pain. While dry eyes are a common cause of foreign body sensation, other conditions share similar symptoms, so it's essential to get the opinion of an eye care professional.
Schedule an eye exam at one of our many Optical Illusions locations to get to the bottom of that foreign body sensation.