In a world where fashion meets function, eyeglasses have evolved from a mere necessity to a stylish accessory that can accentuate our individuality.
Whether you're a fashion-forward trendsetter or a minimalist seeking practicality, finding the right pair of glasses can be a transformative experience. But with countless styles and designs available, how do you narrow down the options and identify the frames that truly flatter your face?
Just as our faces come in a diverse array of contours and angles, so do eyeglasses. Frames that flatter your face shape can accentuate your personal style and natural features. Those with round faces can benefit from frames that add definition, while those with square faces can benefit from frames that add softness—and those with an oval face can choose almost any style.
Regardless of your particular face shape and style preferences, we can help you find eyeglasses that meet your needs during your next visit for a comprehensive eye exam.
How to Determine Your Face Shape
Before you run to your nearest eyeglass retailer, it can be helpful to first determine your face shape.
Your face shape can generally be determined by evaluating the following features:
Forehead width
Cheekbone width
Jawline width
Face length
You may be able to determine your face shape visually by pulling your hair back and looking in the mirror, or you may benefit from measuring these areas with a flexible measuring tape.
While faces come in all shapes and sizes, we will be focusing on 5 primary shapes: round, oval, heart-shaped, square, and small faces.
Round faces are typically short with soft features. The cheekbones are the widest part of the face, and the forehead and jawline are usually the same width.
Oval faces are longer than they are wide and accompanied by a round jawline and chin. The forehead is usually the widest part of the face.
Heart-shaped faces can be characterized by a narrow, pointed chin (like the point of a heart) and full cheeks. Individuals with a heart-shaped face often also have a pointed hairline.
Square faces are as long as they are wide and feature a wide hairline and angular jaw. The forehead, cheekbones, and jawline are usually about the same width.
Small faces have petite features. It can be challenging to find well-fitting and flattering eyeglasses for small faces. However, it is possible to find styles that do not overpower your face.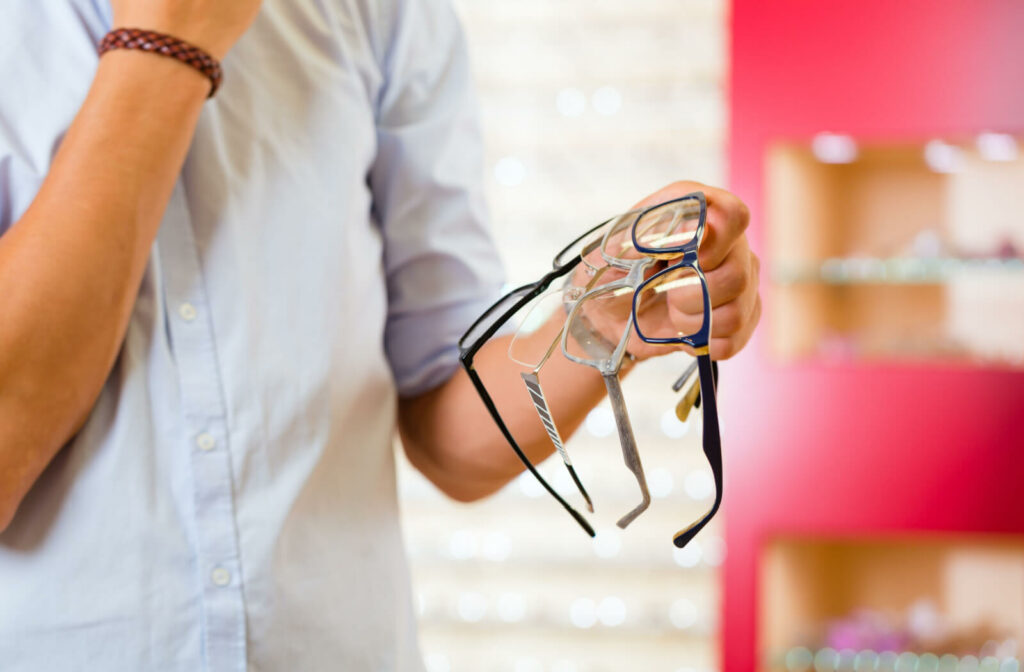 The Best Glasses for Your Face Shape
A great pair of glasses can have the power to completely transform your look. Finding frames that work with your face shape is a great way to highlight your features while showing off your style.
Glasses for Round Faces
If you have a round face with softer angles and equal length and width, you can create balance and add definition with glasses that have angular frames, such as rectangular or square shapes, which can help elongate your face and create a slender look.
Steer clear of round or curved frames, as they can emphasize the roundness of your face. Bold and chunky frames can also add depth and structure to your features.
Glasses for Oval Faces
Considered the most versatile face shape, oval faces have balanced proportions and gently rounded contours. Almost any style of glasses can flatter this face shape. From classic aviators to trendy cat-eye frames, you have the freedom to experiment and choose frames that match your personal style.
Just make sure the frames are not too oversized, as they may disrupt the natural symmetry of your face.
Glasses for Heart-Shaped Faces
Characterized by a broad forehead and narrow chin, heart-shaped faces can benefit from frames that add width to the lower part of the face. Opt for bottom-heavy frames or styles that feature a decorative element at the bottom, such as butterfly shapes. Rimless frames can also work well by drawing attention away from the forehead.
Avoid top-heavy frames and frames with excessive embellishments on the top of their design, as they may overemphasize wider features on your face.
Glasses for Square Faces
For those with a square face shape characterized by a strong jawline and an equally proportioned forehead and jaw, the goal is to soften angles and add some curves. Rimless or semi-rimless frames can work wonders by minimizing the harsh lines of your face. Oval or round frames can also provide a nice contrast to help balance out strong features.
Look for thinner frames that won't overpower your face, and opt for wider styles to add width.
Glasses for Small Faces
For those with a small face, the key is to look for frames that are scaled down in size and offer a more petite fit. Avoid oversized or bulky frames that can overwhelm a smaller face. Instead, opt for narrow and compact styles that won't overpower your features.
Round or oval frames can add softness and balance to your face, while cat-eye frames can create a flattering lift. Consider frames with adjustable nose pads or a bridge that sits higher on the face, which can help create a comfortable and secure fit. Additionally, choosing lighter-colored frames can help create the illusion of a more open and spacious face.
Don't be discouraged by limited options—many eyewear brands now offer a range of styles specifically designed for smaller faces to help you find glasses that suit your unique facial proportions.
Eyewear that Accentuates Your Features
At Optical Illusions, we proudly offer a wide selection of luxury glasses and sunglasses to fit your unique style, natural features, and vision needs. Our team can provide expert guidance to help you find eyewear that complements your face shape and personality.
If you're in need of an up-to-date prescription, we're also happy to provide comprehensive eye exams to help you see clearly with your new glasses.
Contact us to book an appointment at 1 of our 4 offices.